A symposium to mark the 100th Anniversary
of the Gezira Research Station
" Agricultural Research: Achievements, challenges and future prospects"
25-26 December, 2018 – ARC Headquarter – Wad Medani, Sudan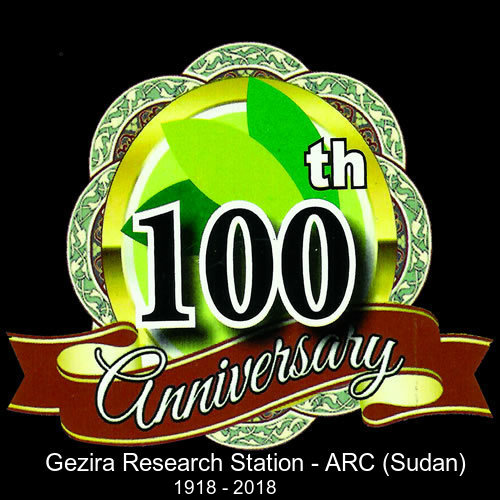 This year marks the 100th Anniversary of the Gezira Research Station (GRS), which was established in 1918 as a prerequisite for agricultural development to carry out intensive scientific research on the best methods for cultivation of cotton and other crops in the Gezira. In 1969, the Agricultural Research Corporation (ARC) celebrated the 50th anniversary of the establishment of the GRS with and International Symposium on "the Cotton Growth in the Gezira Environment", in which twenty six papers on various aspects of cotton research were  presented, including soils, rotations, nutrition, water relations, crop husbandry,  agricultural economics, mechanization, genetics  and crop protection.
ARC has undergone fundamental changes commensurate with the development of agricultural sector in the Sudan. Over the past five decades, tremendous achievements have been realized, including the development of new varieties, improved agronomic practices and natural resources management practices. It's very important to take time to look back at past and present successes, to celebrate our accomplishments and to look forward for the future.
In celebration of that historical milestone, ARC has successfully organized a scientific symposium, an exhibition and field tours. The symposium gather ARC researchers from around the country with educators, extension personnel, policy makers, government officials and other  partners  to highlight current research results, identify key knowledge gaps and Stimulate strategic action plan for the future. This highly important event take place during the period of 25-26 December, 2018 at the Agricultural Research Corporation (ARC) Headquarter, Wad Medani, Sudan.
Objective: To review the current situation of agricultural research, showcase its achievements, examine the challenges facing it and provide targeted guidance of research programs for the future
Documenting for The Symposium to Mark the 100th Anniversary of the Gezira Research Station – Agricultural Research Corporation (ARC) – Sudan:
Symposium Program: Click Here
This Page will updated soon